A no-risk form of betting, matched betting is generally used to bet on sports events and make guaranteed profits. It is a completely legal, tried and tested betting technique that most people use to make money from online sports betting.
This guide provides an in-depth overview of matched betting to help beginners understand what it is exactly and how it works. This comprehensive guide also covers everything you should know to get started with this form of betting.
What Is Matched Betting?
Matched betting is also known by the names 'no-risk betting', 'bonus hunting', 'double betting' or 'lay bet matching' and is a popular betting technique betting enthusiasts use to profit from the incentives and free bets bookmakers offer.
Matched bettors use promotions and bonuses available at the online bookmaking website to get some real cash. Matched betting is considered to be free of risk because it works on the basis of a mathematical equation and not just luck.
Almost all bookmakers offer free bets to attract new players to place bets. Matched bettors use these bets to cover all the potential outcomes of the match or event. By doing this, you are sure to make profit every time as your winnings don't depend on which team wins.
Matched Betting Explained – How Matched Betting Works?
To understand how matched betting works, you should understand the two types of bets that hold significance when using this betting technique to achieve sustainable profits.
Back Bet
A back bet is a conventional form of placing a bet where you bet on the outcome of an event like what team will win. If your selection wins, you win the bet and profit. If you are backing England to win, you lose if England loses. A back bet can be placed at any bookmaker.
Lay Bet
A lay bet is the opposite of back bet and has recently become popular with the advent of online betting exchanges. In this type of bet, you say, 'I don't think this will win'.
This means if England does not win the match, you win the bet and profit. If the match is a draw, your lay bet wins because it did not win. Matched betting works on the basis of eliminating the risk factor associated with back bet by placing a lay bet.
You can place a bet against yourself at the same odds at an online betting exchange so there is no risk. In simple words, you are matching your bet. You back as well as lay on the same outcome to remove all the risks. There is no chance of losing a bet because you have covered all the outcomes.
When you get a free bet from your bookmaker, you can achieve guaranteed profits by placing double bets. You play with free money for half of your bets and you can keep the winnings.
This means there is no risk and you get an easy profit, whatever is the result of the event you are betting on. Matched betting ensures you keep earning free bets and making profits, ultimately making this technique your income source.
Matched Betting For Dummies – Getting Started
Matched betting may seem difficult and intimidating at first but it gets easier with practice. It is a popular choice among homemakers and students who want to make an income without committing to work hours.
This technique is used to profit from the free bets bookmakers offer. It involves placing multiple bets to reduce the risk of losing money.
How To Start Matched Betting
It is pretty easy to start using the no-risk betting technique to make profits. All you need is an email-address, an internet connection and a bank account or online wallet.
Internet-Connected Device
It is possible to bet from your smartphone although an ideal betting scenario should have a computer to switch easily between websites and place the bets at the right moment. It is also important to have a reliable internet connection available.
Email Address
You need an email account to register with the betting exchange and bookmaker sites. You should make a dedicated account for matched betting so that you can find everything easily.
Synchronize your email with your smartphone to make sure you never stay on the top of the newest offers.
Online Wallet or Bank Account
You can even use your regular bank account to deposit and withdraw money into and from the betting account. However, you can consider having a dedicated online account or e-wallet for transactions involving the matched betting.
Funds
It is sometimes necessary to stake some funds of your own to start making profits from matched betting. You can start with a small budget of $80-$100 to be able to make one or two offers at a time. In just a few months, you can turn this investment into a big bankroll.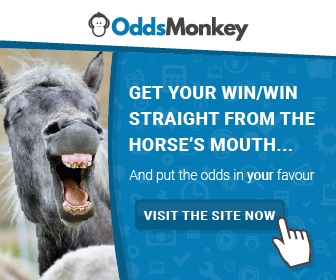 How To Make Profits From Matched Betting
Let us try to understand with the help of an example. A bookmaker is giving a bonus of $20 on your first deposit. So you register with the site and deposit $20. You place a standard back bet with this bookmaker.
You can also register with Betfair because it is a betting exchange that allows placing lay bets to cancel out your risk at the other site. At this exchange, you can bet against other players. Betfair can sometimes offer you free bets as well.
Next, you want to find out a bet for a sports event which has the closest odds on Betfair as well as the other bookmaker. Place a back bet of $20 at the bookmaker and a $20 lay bet on Betfair.
Suppose you placed the bets on Russia for a football match. If Russia wins, you win the bet at the bookmaker and lose your bet at Betfair. If Russia loses or the match is a draw, you lose the bet at the bookmaker and win at Betfair.
Whatever is the outcome of the match, you make a profit. You can use this profit to place the next matched bet and repeat the process to accumulate a lot of profits in a short time.
When using the free bets to get started with matched betting, you can go for higher odds to maximize your profits. Having more funds available for double betting increases your profits.
To get started with a low amount, you can benefit from a no-risk matched betting offer that will not require a qualifying bet. A larger bankroll will let you make multiple bets without having to wait for the bookmaker to release your profit.
However, you should know your limits before deciding on how much money you want to use in matched betting.
Matched Betting Calculator
A matched betting calculator is a useful tool for matched bettors and can save a lot of time and effort by making things easier. The tool is designed to help you calculate how much you should stake on the back and lay bets to make sure there is no risk of loss and you get guaranteed profit.
The calculator works for the initial qualifying bet as well as the free bet and risk-free bet.
This type of calculator allows seeing potential profits on normal as well as free bets. It lets you find out how much you should back or lay.
The tool also adjusts the figures as and when the odds change. You can also see how the money will be distributed if you win at the exchange or bookmaker.
To use a matched betting calculator, you can select the type of matched bet you want to place. Then you can input the odds, stake and commission for the lay or back bet. You can then enter the odds available on the betting exchange and the commission they charge.
Entering these details will calculate the various elements involved in a matched betting.
The calculator gives you the stake amount, the liability amount, the commission taken by the bookmaker and the betting exchange depending on the minimum and maximum values of the stakes.
The tool often provides a slider to underlay or overlay the bet when you want to. Using the information, you can place your matched bets to get guaranteed profits.
How To Find Matched Bets?
Matched betting simply means converting free bet or promotion into winnings. To be able to make profit, you should place a back bet with the bookmaker offering the free bet and then a lay bet on the betting exchange to cover all the potential outcomes of the event and eliminate any risk.
The simplest way to find the best matched bets is using a matched betting software. It saves you from the hassle of finding bets manually. When a matched betting software cannot be used, you can use some tips and tricks to identify a good bet for matched betting.
Risk-free bets should be placed at odds over 4 to gain a profit of about 70-80 percent of the value of the free bet. Qualifying odds are placed at the lowest possible odds to avoid using up too much balance.
You can choose a bet with higher qualifying loss to optimize the use of available funds. However, when funds are sufficient, you can maximize the profits and minimize the qualifying loss.
Matched Betting Tips
Matched betting is essentially a form of gambling that allows getting guaranteed profits by betting on all the outcomes of an event. It also has no risks associated because you are taking advantage of free bets offered by the bookmaker.
Here are some important tips that you can consider to increase your winnings quickly from this betting technique.
Keep it simple
When you get started with matched betting, consider only the sign-up offers and the promotions you can understand. Before considering any complicated offer, it is necessary to gain experience and confidence.
It is important to understand that matched betting is not another money-making scheme. You should go through the process and devote time and effort to start making a handsome income from the betting technique.
Speed it up
To speed up your tasks, make bookmarks for different bookmaker accounts and use the autofill function to quickly fill up forms on different websites. You can even consider creating a dedicated profile on the computer for matched betting.
Stay secure
When you indulge into matched betting, you register with numerous betting exchanges and bookmakers. So it is essential that you keep a list of all the usernames and passwords to keep the information secure.
This will not only take care of your security when logging into different accounts but also save you time.
Keep track of your money
Monitoring your money is important. You will have accounts at various betting exchanges and bookmakers so your money will be scattered across multiple accounts and you can lose track of it. Keep track of what money is present at which place and what free bets you have unused with you.
Use a matched betting service
A matched betting service makes matched betting much easier than it would otherwise be. These services are designed to notify you of all the offers available at the time and tell you what amount you should bet, at what odds to make profit.
It also lets you know the terms and conditions you should fulfil to qualify for the free bet.
Get support
Don't hesitate to reach out to the bookmaker support in case of any queries or concerns. If you think you have any outstanding free bet, you can use the live chat functionality of the bookmaker website to ask them about it.